Introducing the Meta Store: A Hands-On Experience
Earlier this week (May 9th), Meta (the parent company of Facebook) opened a brick-and-mortar store.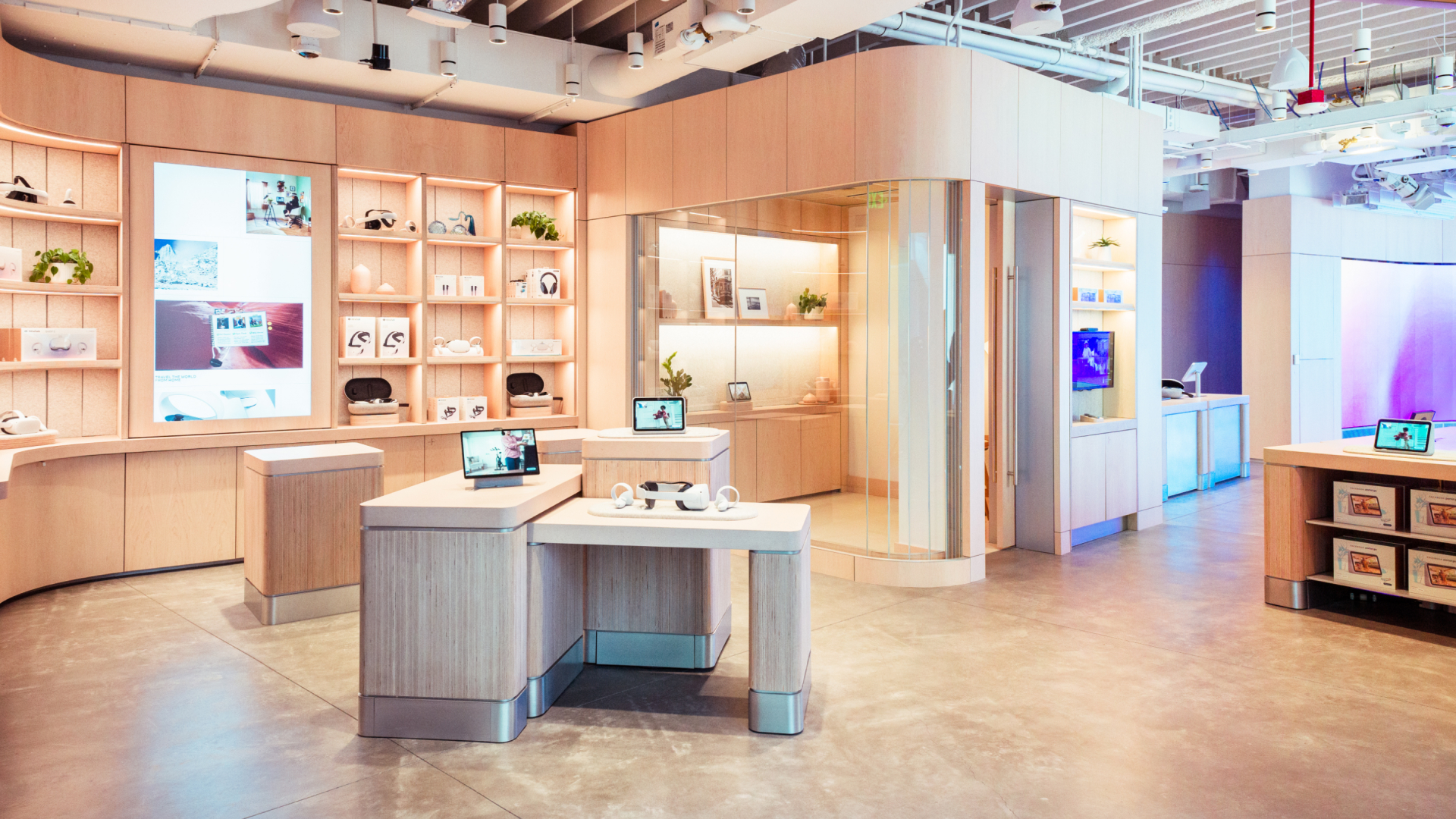 Their new ~ 1,500 sq ft retail space was opened on its Burlingame, California, corporate campus to allow people to try interactive demos and learn more about its new product line.
"Customers" can test the Meta Portal by making video calls to retail associates. They can learn how Ray-Ban Stories work. And explore their VR world with its first-of-its-kind immersive Meta Quest 2 demo.
Why is Meta going Brick-and-Mortar?
Meta plans to spend the next 5-10 years creating a fully-immersive virtual environment called the Metaverse. They envision a virtual world that includes fragrance, touch, and sound – allowing users to lose themselves in virtual reality.
And while that's receiving mixed reviews from all corners of the internet, the social network business recently lost a third of its market value following disappointing earnings reports. So it appears that Mark Zuckerberg needs the metaverse to work.
So what's the problem?
Well, it seems that most people don't understand or care about the Metaverse. A recent survey found:
While 26% of teens own a VR device, just 5% use it daily.
48% of teens are either unsure or not interested in the Metaverse.
And another survey found that only 16% of Americans can describe the metaverse.
The Meta Store will try to fix the general lack of understanding through a curated, hands-on experience.
Nothing Can Replace An In-Store Experience
While it may be a revolutionary idea for businesses 100% focused online, seasoned retailers know there's nothing that replaces a tailored in-person experience set in the right environment.
And this strategy has already been embraced by toy shops, D2C brands, and the pioneer in this model, Apple.
Even Google got on board with a New York retail space at the base of its Chelsea headquarters. And they've just announced a second location in Brooklyn.
Martin Gilliard, Head of the Meta Store, hopes that a fantastic in-store experience will help people embrace this new technology and spread word of mouth.
"Once people experience the technology, they can gain a better appreciation for it. If we did our job right, people should leave and tell their friends, 'You've got to go check out the Meta Store.'" – Martin Gilliard, Head of Meta Store
An Interactive Environment
The main feature of the Meta Store is its immersive demo area where people can try demo apps and games (Beat Saber, GOLF+, Real VR Fishing or Supernatural).
The demo area features a large, wall-to-wall curved LED screen that displays what the person demoing the VR headset sees. They also get a 30-second mixed reality clip of their experience that they can share online.
Ultimately, Meta says its goal is to give people a glimpse into the future and hopefully demystify the Metaverse.
"The Meta Store is going to help people make that connection to how our products can be the gateway to the metaverse in the future. We're not selling the metaverse in our store, but hopefully, people will come in and walk out knowing a little bit more about how our products will help connect them to it." – Martin Gilliard, Head of Meta Store.
About CBSF
As one of Canada's largest retail fixture and store design-builders with:
10,000+ locations;
200 million+ sq ft of retail space, and;
Over 15+ years experience…
…we know what it takes to build and grow a retail business.
Let's talk about your next project – contact our team.